What does our Website Hosting cost?

A quick look around the internet will reveal a multitude of companies offering hosting, and a huge range of costs and options. Our standard hosting package includes 2Gb fast web space and unlimited bandwidth, on high spec Unix or Windows web servers (according to your requirements). This is more than adequate for the majority of web sites, and our platform  supports PHP, ASP.NET, and various popular packages such as WordPress.
The cost for the standard account is £200 per year, including an SSL security certificate and free telephone and email support. This can be paid monthly at £18 per month, totallting £216 per year if preferred.
If your requirements are for something needing much more power (perhaps a site with particularly heavy traffic), we can also offer dedicated servers.
The very inexpensive hosting offered by some companies is functional but often completely unsupported, and assumes you have a level of expertise to manage your site and email yourself. It is also not always suitable for commercial websites because it can be limited in capability and power. Support when available is either on premium rate phone lines or via slow web based ticketing systems. At our web hosting service in Sussex, our telephone support is personal and our phone lines are standard rate.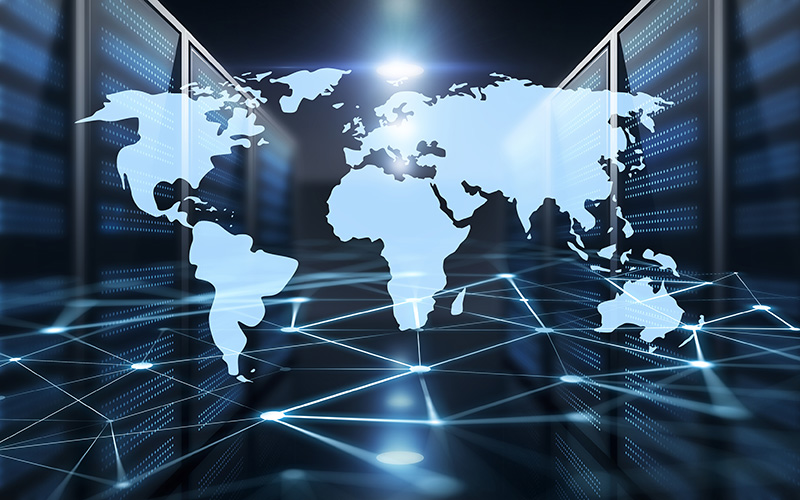 Secure Website Hosting with Secure Socket Layer (SSL)
What is an SSL Certificate?
SSL certificates secure your website's connection and boost its rankings in Google.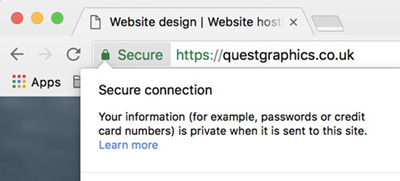 Essentially, SSL establishes an encrypted link between your web server and your visitor's web browser. This ensures that all data passed between the two remains private and secure. A secure site, when viewed in a browser, has a green padlock by the domain name, and sometimes the word 'Secure' also in green, depending on the browser. Clicking the padlock reveals more information, shown in the screengrab below.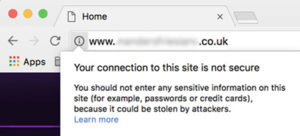 With an unsecured HTTP connection, third parties can snoop on any traffic passing between your reader's browser and your web server. This is a huge issue if you're passing sensitive information like credit card numbers. But nowadays, many entities, including Google, are pushing to use secure HTTPS connections for all traffic. An unsecured site shows a small 'i' in a circle by the domain name, and when this is clicked information about the site's insecure connection is revealed.
Why Do You Need an SSL Certificate?
In the past, only eCommerce sites really needed to care about SSL. But that all changed in late 2014 when Google announced that SSL was going to be rolled out as a ranking factor.
Sites that use SSL certificates get a boost in the search engine results pages (SERPs). It might not be a huge boost, depending on your site, but any boost in search rankings is a good one.
But now Google has gone further. Starting from January 2017, Google marks HTTP pages that collect passwords or credit cards as non-secure. That means your WordPress login page will be marked as non-secure if you're not using HTTPS. Google eventually plans to expand this feature to treat all HTTP pages like this.
The extra cost of ssl hosting is very small and the benefits, including trust in your site, are worthwhile.
At our web hosting agency in Sussex, the cost for our standard ssl hosting account is £180 per year, including free telephone support.
If you have any questions, about our web hosting services, please don't hesitate to contact us.
Office 365 for email
We are an authorised reseller of Microsoft's Office 365. This offers all the benefits of an Exchange server, but is cloud based so without the expense of running your own server. Your email is available on all your devices, anywhere you are connected to the internet or a mobile signal, and is synchronised across all devices and backed up. Perfect when working in more than one location or using multiple devices-computer, laptop, tablet, phone. Prices for Office 365 start at £3.80 +VAT per month per mailbox.
We also supply licenses for the full version of Microsoft Office starting at £9.40 +VAT per month including one Office 365 mailbox.